Changes are needed in administrative, legislative, judicial and assistance aspects. But above all, a change in society is necessary so that the rights of the victims are recognized. For this it is important to give visibility and voice to the victims. P(A)T keeps the debate in the media and before political leaders and decision makers with proposals for legal changes to improve the rights of crash victims and improve holistic assistance.
We participate in neighborhood movements, demonstrations, pickup of signatures, proposals for legislative changes, awareness campaigns, radio and TV programs, etc.
Since 1968, committed to road safety
P(A)T is attached to the initiative
30 km/h through a few inhabited streets!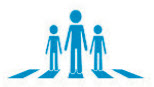 Association declared of h3> Public Utility

Check updated road information