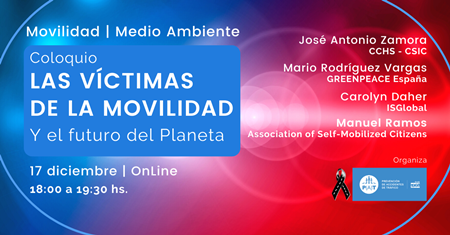 Conferencias / Journeys / News
Colloquium Victims of Mobility
Under the title "victims of mobility" this colloquium aims to reflect on the current model of mobility.
To the victims of traffic accidents we must add the victims of pollution. The electric vehicle is presented as the savior, but without taking into account the pollution it generates at source and even the repercussions it has on the countries where the raw material is obtained.
All of this shows the urgency of putting on the table the need for a paradigm shift, a change that also has implications for the mobility model we currently have.
In this sense, we must tend towards 0.0 mobility. That is, with zero victims, zero emissions and in which the sustainability of the planet prevails by betting on local products or km0 to avoid unnecessary travel.
The coronavirus pandemic has shown urgent aspects that have been insistently demanded and that can no longer wait. Climate change threatens more pandemics, massive migrations to the city, which presents an unsustainable scenario.
Mobility is a key issue in this regard and that is why we propose this colloquium that aims to broaden the view and reflect on the ethical implications of the current mobility model and reveal the different victims it generates.
PROGRAM
18: 00hh Welcome and presentation
Yolanda Domenech, Director of P (A) T
18: 05h Vision from philosophy
Jose Antonio Zamora
Senior Scientist – Institute of Philosophy – Center for Human and Social Sciences | CSIC
18: 30h Vision from ecological activism
Mario Rodriguez
Executive Director of Greenpeace Spain
18: 45h Vision from health and urban planning
Carolyn Daher
Coordinator of Urban Planning, Environment and Health at ISGlobal
19:00h View from anthropology
Manuel Ramos
Senior Researcher at the International Center for IUL Studies
Associate Professor of the Department of Anthropology of ISCTE – Lisbon University Institute
19: 15h Debate
19: 30h Closing