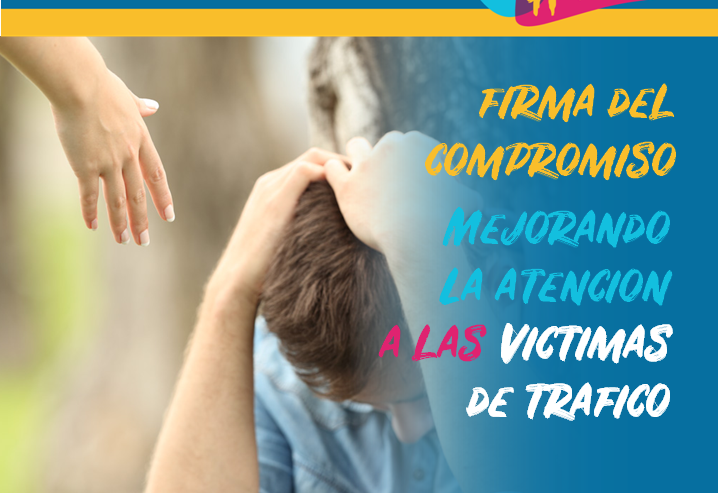 News / Press releases / Uncategorized
#CommitToAct Improving care for victims of trafficking
The Department of the Interior of the Generalitat of Catalonia is committed to improving care for those affected by traffic accidents in 2020.
P(A)T joins the international campaign #CommitToAct promoted by the Global Alliance of NGOs for Road Safety and requests a commitment from the Department of the Interior of the Generalitat de Catalunya to improve care for traffic victims.
On Monday, February 10, the commitment presentation ceremony was held in which the Minister of the Interior, Miquel Buch, and the Director of the Servei Català de Trànsit, Juli Gendrau, assumed the expansion of immediate psychological care in accidents with serious minor injuries of 18 years. Until now, the Emergency Medical System (SEM), at the request of Traffic, provides it in accidents with seriously injured children under 12 years of age. This new measure guarantees the protection of all seriously injured minors.
It must be taken into account that the first moment after the traffic accident is a moment of great confusion, people are in a state of shock and may experience anxiety, disorientation, disconnection and intense reactions that they do not know how to manage. They often do not understand what is happening and therefore it is important to stabilize the person and regain a sense of control or self-mastery.
On the other hand, they undertook to expand the service of the SIAVT (Servei d'Informació i Atenció a les Víctimes de Trànsit 900 100 268) during the twelve months following the incident, so that the service will be in contact with the family and will follow-up. The experience of P(A)T tells us that in cases of traffic accidents, grief does not last only one year, but many more, but it is true that this first year is important to detect possible difficulties that may lead to disorders and therefore this extension is important to contribute to the prevention of the mental health of the people affected.
From P(A)T we believe that these measures are one more step to guarantee the right to recover the quality of life of the people affected and we will continue fighting to achieve further improvements.